Delicious, natural food to satisfy every goal
Nutrition is essential for your health and to reach your fitness goals. Our nutrition guides will help you to excel in achieving your goals, with the help of our in-house nutritionists. Packed with flavour, nutritionally conscious and freshly made; healthy doesn't have to be boring.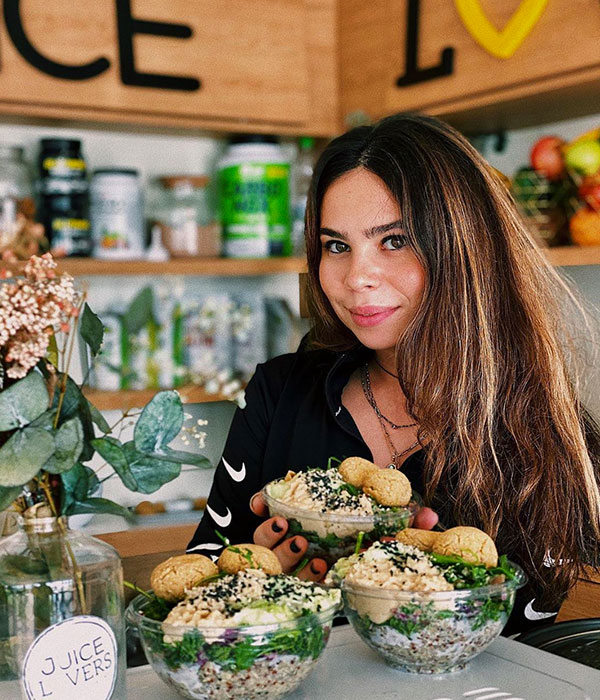 Meet our in-house nutritionist Kenza
Our food expert Kenza prepares all of our food, helps you with creating your diet plans and makes meal prepping available for all. Our Juice Lovers Concept supplies the possibility to eat your meals at our gyms or take them home. Juice Lovers was created with you in mind, to help you get the most from your training with a delicious and accessible proposition.
Visit our Juice Lovers bar
Our Promises
Clean
We offer both low- and high carbohydrate meals, all of them under 300 calories. CLEAN allows you to have more control over your nutrition and calorie consumption. This way you will get the most out of your exercise.
Lean
Filled with protein, low on carbohydrates and calories. LEAN refills you after a tough workout whilst protecting your muscles. With fresh vegetables to support your recovery process and boost your immunity.
Plant-based
Focussed on providing high quality, plant based proteins, carbohydrates and healthy fat to help support your optimal body functions. PLANT-BASED supports the vegan lifestyle and offers options that won't force you to sacrifice your nutritional needs.
Vegetarian
VEGETARIAN is a sustainable, meat-free substitute in which high quality egg- and dairy products form the base to improve your performance. In combination with nutrient-rich vegetables, VEGETARIAN will lessen infection and boost your recovery.
Fuel
With more protein, carbohydrates and healthy fat, FUEL offers additional calories and excellent nutrients to support muscle growth, enhance your performance and recover after intensive training.